RE-PRINTED from here
:
http://theweathercontinues.blogspot.mx/2014/05/progress-all-around.html
Yesterday would have been

Harvey Milk's

84th birthday, and to celebrate, I watched the film

MILK

. More on that, later.
>>>
MUCH TO REPORT, I'LL TRY TO BE CONCISE:
1. This morning, I DID get back to Bank of America to find out what is happening with the HOLD on my accounts. Last write up on that: http://theweathercontinues.blogspot.mx/2014/05/beyond-mondo-bizzarro-bob-breck-vs-bank.html.
Then I sent Rishi Nair of Nair Law, Chicago the following email that sums it up:
Hi Rishi,
I just got off the phone with Bank of America and learned these things:
1.They now show Nair Law/Rishi Nair as who filed for the hold on my accounts -- rather than CEO Law, Chicago, as they STILL had in their records two days ago.
2.They have NOT received the Legal Order from you that you emailed me you sent on May 9, 2014, and ask that you send either a Release Document or a Pay Order by FAX to Bank of America Legal Department: (617) 310-XXXX,

ASAP

.
3. They refuse to explain why they held funds I had already spent for medical bills earlier in the day than when they applied the hold, causing me to show about $600.00 overdrawn now (they should have only held a little over $100.00, all I had after paying those bills).
4. And as you know, I was unaware I had to tell Bank of America that the account was primarily to transfer SSI Disability money to me, so that was my fault and you got money, $650.00 of which was my next month's $500.00 rent and $150.00 "pocket money" from SSI Disability via Benefits Management in Wilmington, NC, that check clearing BoA about two days before you placed the hold.
5.
If you do
NOT
send them either a Release Document or a Pay Order, the hold will continue on my accounts until the year 2050 (yes, really), so why not finish up this mess now?
Let me know if you have any other interesting negotiations any of you might be interested in.
Thanks,
Scott
2.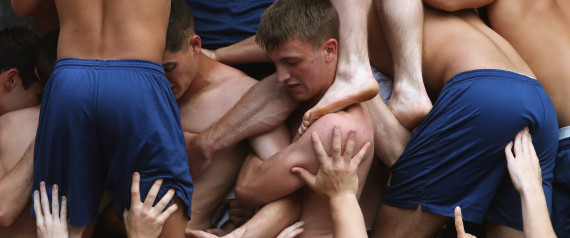 Gayer

than a

VILLAGE PEOPLE

concert -- and brought to you by the

US Navy

!!!
Naval Academy Freshmen Climb Greased Herndon Monument (PHOTOS)
3.
IN CASE YOU DIDN'T NOTICE, YET:
Within eighteen hours of my getting this email to
Drew Griffin
of
CNN
(and my 500 email contacts -- mostly in the US Press):
http://theweathercontinues.blogspot.mx/2014/05/email-to-drew-griffin-of-cnn-my-nazi.html
,
CNN
and
several elected politicians
speaking on CNN, as well, began talking about how
NEW REVELATIONS
will make the
wait times scandal
at Veteran Administration Hospitals look like
MINOR STUFF
!!!
I don't claim they are referring to
MY
charges, as my mother being Dick Cheney's (et al's),
BOSS
, she is very protected, but my making a
PUBLIC STINK
probably will help other similar allegations of the CIA and other NAZIs using the VA hospitals to
MURDER POLITICAL ENEMIES
come out in the news
soon
.
YAY!!!
4.
WOW
-- serious legal ramifications for the Catholic Church worldwide. Meanwhile Pope Francis continues his
excellent charm offensive
, but rather than compensate victims of priests, he appointed
ANOTHER
committee to
study it for a few years . . .
5.
I called

Testosteroni/Testo

also this morning, mostly wanting to thank him for getting me so angry at the beginning of this week. Being an

"ALCHEMIST"

of sorts, I transformed that anger into the energy of

WRITING

some especially good blog posts and emails this week.

At one point I asked him how he was doing, and he said he was pissed off, but since he showed no emotion about that nor said it was directed at me, I figured something in his neighborhood must have gotten his goat. During

the

twenty-minute call,

he never elaborated

.


And not only did he

AGAIN

claim I had said or written something I never have, I suggested that might be the confusion from his

addiction to

Testosterone injections

for

Depression

, but a couple of times when he would have

ACCURATELY

said

"I

think

(something from thinking, logic, etc.)"

, he said

"I

feel

(meant to express emotion or intuition)"

. I did

NOT

mention to him that two days ago I read a report on

how to spot

DEPRESSION

, that said one of the leading symptoms of people with no confidence or low self esteem or Depression,

is to say

"I feel,"

when

"I think"

is called for

.




And then, as if trying to

PROVE

he works for my adversaries, he encouraged me to be certain to take a copy of Rishi Nair's draft proposal of terms for us to end the

Chicago Legal Matter

to writers group tomorrow, and try to talk a lawyer into reading it and explaining it in strictly legal terms -- with a view to my signing it.

That

HAD

been

my plan -- until Rishi sent the draft, and it stipulates that

if I use the words

"Chicago"

or

"Kenan"

ANYWHERE

on the internet

where I have control of content

(my blog or Facebook page are two examples), then I am

in violation of the proposed agreement

.

Well, that means effectively that I could

NOT

post anything online

except under a pseudonym

, and I could

NOT

mention my Kenan relatives or the City of Chicago for

ANY REASON

--

LOL

!!!

That would

SEEM

to prove that

Thomas S. Kenan III

really

IS

in contact with

Saper Law/Nair Law

-- probably through Saper Law employee

Jeff Duncan

, who had interned for

D.A. Benjamin R. David

in Wilmington, NC

before

working for Daliah Saper --

BOTH

places during the time the other two concocted

FALSE CHARGES

against me,

no

???


GOD

, they think I am

STUPID

-- and

so did Testosteroni

, by thinking I needed a lawyer to explain

THAT

clear language:


"

B. Removal of Internet Postings. Kenan will take all reasonable steps in good faith to cause the removal of any internet posting related to Sutherland or his attorneys, within two (2) weeks from the Effective Date of this Agreement. Notwithstanding the foregoing, nothing in this Agreement shall require Kenan to incur any out-of-pocket expense relating to the removal of the internet posting.





"C.

Test for Removal

.

The Parties agree that the test for

successful

removal is a Google search for the terms "Jamie Sutherland", "Rishi Nair", "Nair Law LLC", "Daliah Saper", "Saper Law", "Chicago", "Kenan" and/or other associated terms, do not bring up results that manifest in webpages with content controlled by Kenan.

The presence of such searchable content through Google.com represents a

breach of this Agreement

."

SEE MORE HERE

:

http://theweathercontinues.blogspot.mx/2014/05/chicago-lawyer-rishi-nair-previously.html

DRUG ADDICTION

, whether

legal or not

,

DESTROYS MINDS AND CHARACTER

!!!

6.
Paul Colichman

is in center.
In 2009,

Paul

Colichman

and

Stephen P. Jarchow

founded what was to become

HERE MEDIA

, having purchased

MOST

gay media, including

THE ADVOCATE

and

ALYSON BOOKS

.
According to the movie
MILK
, the
THEN
owners of
THE ADVOCATE
(longest in-print serious gay newspaper/magazine), were two of

Harvey Milk's
BIGGEST POLITICAL ENEMIES
in San Francisco --
IN FACT
, they likely had
a hand in his murder
. But look what I found
JUST NOW
on
HERE MEDIA's
website concerning their
"Here Media App"
-- an
image of
Harvey Milk
, who the previous owners of
THE ADVOCATE
had so vigorously
OPPOSED
!!!:
And after then-Alyson-Publisher
Don Weise
cancelled my contract to publish
WALKING ON GLASS: A MEMOIR OF THE LATER DAYS OF TENNESSEE WILLIAMS
-- which they had
SAID
was to be their
FEATURED HARD COVER RELEASE
of spring 2010, a release of over 30 books, and I had
rave reviews
from
John Lahr
, as well as
Williams scholars
Thomas Elliot Keith
and
Kenneth Holditch
, yet they had
NOT PAID
even a cent
of my advance, half due on signing early August 2009, and they cancelled mid-January 2010, I soon discovered that the
WEBPAGE
on Alyson Book's site
specifically
for my book and its listing as part of the spring release was
GONE
-- but
ONLY
on
MY
computers,
computers belonging to
most
of my friends
-- but
NOT GONE
on public ones at the library or on anyone else's computers
AT ALL
!!!
Thomas Elliot Keith

on left,

Don Weise

on right.
Weise now owns

Magnus Books

, having taken most of Alyson's authors with him when he left. See how Don Weise conspired with

iconic

1980s Gay Rights Leader and

noted memoirist

and

Marcel Proust

scholar

Edmund White

to

FRAUDULENTLY

pay Edmund a

half-million dollar advance

on a book they both knew would be a

SALES DOG

, causing publisher

Carroll and Graf

to be so broke it had to be

SOLD

!!!
The listing for my book

REMAINED

up on Alyson's website as a

RELEASE

until the

END

of April, 2010

(except for me and my friends)

.
>>>
BUT HERE IS THE KICKER:
After

HERE MEDIA's

Legal Department

sent me an email cancelling my contract and returning my rights, one of Colichman's TOP LAWYERS (his claim to me), called me on the phone and said they would do

EVERYTHING IN THEIR POWER

to see that my book -- and

ME

in any OTHER writing -- would NEVER BE PUBLISHED.

1. I think this PROVES that

Jamie Lee Sutherland

, of

Wells Fargo Advisors

in Chicago

(who reported seeing

Senator Barack Obama

in his

private gay bathhouse

several times),

FOX NEWS

employee

Daliah Saper

and her

Saper Law, LLC

in Chicago,

Jeff Duncan

, and

Richi Nair

and Nair Law, LLC are ALL

"in bed"

with Sewanee (The University of the South), the

Episcopal Church

and the

Republican Party

/

CIA

/

NSA

.
2. I don't think that

Alyson

/

HERE MEDIA

could have pulled the

"multiple internets"

scheme without the participation of the CIA/

NSA

.
3. They

KNEW

I could prove how the Episcopal Church with the Republican Party had murdered Tennessee Williams

(just like

Jackie Kennedy Onassis

told Tennessee and me

they planned to do

), and

PAID OFF

Tennessee's maid, Leoncia McGee, as well as Gary Tucker and Schuyler "Skye" Wyatt -- putting them into a

LIFE OF LUXURY

until they had all died by the mid 1990s -- and Skye Wyatt told not only ME, but John Uecker (who murdered Tennessee Williams), that it was a

"top

Republican

Legislator in the Tennessee State Legislature"

who had given them all the money.
Now, available for

FREE

, here:
Scott
.