RE-PRINTED from here
:
http://theweathercontinues.blogspot.mx/2014/06/you-may-be-religious-scientist-if.html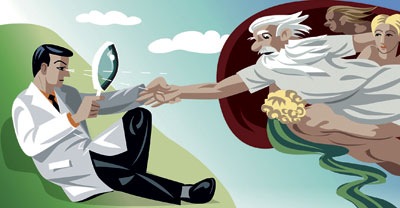 1.


2.
What are the basic beliefs of a religious scientist?
Here is a very short exclamation of our basic beliefs and guiding principles.
We believe in God, the Living Spirit Almighty; one, indestructible, absolute and self-existent Cause.
This One manifests itself in and through all creation but is not absorbed by its creation.
The manifest Universe is the body of God; it is the logical and necessary outcome of the Infinite self-knowingness of God.
We believe in the incarnation of the Spirit in everyone and that all people are incarnation of the One Spirit.
We believe that Heaven is within us and that we experience it to the degree that we become conscious of it.
We believe the ultimate goal of life to be a complete emancipation from all discord of every nature, and that this goal is sure to be attained by all.
We believe in the unity of all life, and that the highest God and the innermost God is one God.
We believe that God is personal to all who feel this Indwelling Presence.
We believe in the direct revelation of Truth through the intuitive and spiritual nature of the individual, and that any person who lives in close contact with the indwelling God may become a revealer of Truth.
We believe that the Universal Spirit, which is God, operates through a Universal Mind, which is the Law of God; and that we are surrounded by this Creative Mind, which receives the direct impress of our thoughts and acts upon it.
We believe in the healing of the sick through the power of this Mind
(includes traditional and modern medicine and other practices)
.
We believe in the control of conditions through the power of this mind.
We believe in the eternal Goodness, the eternal Loving-kindness, and eternal Givingness of Life to all.
We believe in our own soul, our own spirit, and our own destiny; for we understand that the life of all is God.
What We Believe
, by Ernest Holmes, was published in the first issue of Science of Mind magazine, October 1927. This edited version uses gender-inclusive language.
From the simplicity of these self-evident beliefs you will experience personal exclamations from ministers across the board. Some ministers see themselves a Christian while others may teach and/or quote the Bible from a metaphorical understanding and we recognize Jesus the Christ as the greatest teacher but we focus on his teaching and consciousness not the idea of his resurrection and becoming the savior.
NOT
all religious scientists believe that Jesus was this important
-- and ALL agree that the Truth is the Truth whether or not Jesus ever existed. More can be discovered here:
http://csl.org/
3.


"I've been a deep believer my whole life. 18 years as a Southern Baptist. More than 40 years as a mainline Protestant. I'm an ordained pastor. But it's just stopped making sense to me. You see people doing terrible things in the name of religion, and you think: 'Those people believe just as strongly as I do. They're just as convinced as I am.' And it just doesn't make sense anymore. It doesn't make sense to believe in a God that dabbles in people's lives. If a plane crashes, and one person survives, everyone thanks God. They say: 'God had a purpose for that person. God saved her for a reason!' Do we not realize how cruel that is? Do we not realize how cruel it is to say that if God had a purpose for that person, he also had a purpose in killing everyone else on that plane? And a purpose in starving millions of children? A purpose in slavery and genocide? For every time you say that there's a purpose behind one person's success, you invalidate billions of people. You say there is a purpose to their suffering. And that's just cruel."
I'm still in the phase of having
some discord
in my life --
LOL
!!!
An Angry Vagina (same thing).
>>>
ADDED @ 10:05 PM, CDT --
LOL
!!!:
4.
Found this in my purse
5.
6.
Puerto Vallarta gays and not-gays travelled to Toronto, Canada to participate,
and
THIS
article attributes the
VIGOROUS
gay community here and
ALL OF PUERTO VALLARTA'S TOURISM
on the filming of my former employer
Tennessee Williams'
THE NIGHT OF THE IGUANA
!!!
7.
.