RE-PRINTED from here

: http://theweathercontinues.blogspot.mx/2014/11/for-immediate-release.html
Mom and Dad in my

rose garden

in

Stone Mountain, Georgia

, about 2003.
>>>
SOME DAYS ARE
HIGHLY PRODUCTIVE
,
NO
???
1. A

FURTHER

email exchange with

my sister Jane

:
Jane,
I'm envious. Wish I could have been with you. The odd thing is that as often as I feel an almost real presence of Tennessee Williams, Texas Kate (Schweppe), Sharp, Moldawer, then McNamara (who grew up in Atlanta knowing the richest Kenans and Tennessee based the character Babe -- the wealthiest woman on earth -- on her in IN MASKS OUTRAGEOUS AND SINCERE, Jane Smith (and even Gary Tucker and Skye Wyatt), Jackie Onassis and President Kennedy -- and REALLY strange is William Rand Kenan, Junior AND Frank Hawkins Kenan -- some people are going to hate me for stating this fact of how I interpret what my mind presents me -- Anyway, my point was to be that despite THEIR coming around -- even President REAGAN visits me this non-physical way -- I have only the vaguest sense of Dad from the other side.
But I figured it out this morning -- Dad's still in some heaven-side bar drinking Jim Beam bourbon, thanking his lucky stars that his friend Odell Balkcum of the Wilmington, NC Used-Car Balkcums fed me an alleged (alleged for this amount, not its happening), teaspoon of bourbon when I was six weeks old to keep me from turning YANKEE, and by the intersession of St. Tennessee Williams, I definitely turned out Southern!!!
Well, you know how Dad had a reputation for not wanting to leave a bar, and without his beat-up old body to suffer (or money to have to pay), he's still just getting silly over his release
(hic)
, still
. And it's all spirits' spirits -- entirely MENTAL energy. He'll get tired of that eventually - and if he wants to, stop around.
But strangely -- and I feel I must respect this if it happens -- I think like the character in THE GLASS MENAGERIE, Dad will skip the light fantastic, having had enough of all that "Meyer shit" for at least several lifetimes. But if Mom goes up to GIT HIM, he'd better watch out!!!
We'll all have to stayed tuned . . .
On Thu, Nov 6, 2014 at 6:58 PM,
Jane Kenan
wrote:



Glad you are still keeping me in your emails.




I believe I saw that cool pic of Connor before possibly on Facebook or when he first got back from Asia. He came by on his way home to see Mom and Dad and me.




Gorgeous picture of PV this morning.




Mom's church had a memorial service last night for all souls who died last year. I went and it was very nice. I went in and put Dad's name on a scroll, lit a few candles and then we had some readings and songs. Then there was a procession up to the columbarium. There were lights on the railings and candles on the columbarium. It was very nice. And the moon was almost full; it was gorgeous out and very pleasant! I had a nice visit with Dad! (Mom did not go.)






2. An email exchange with

Elizabeth Ensor

of

Act II Entertainment/Stages

: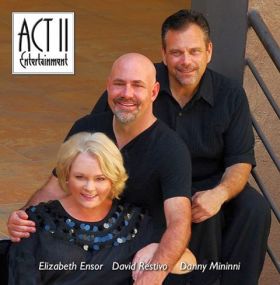 As you can see,

Elizabeth Ensor

is

quite pretty

.
Hi Elizabeth -- I was very happy to see I had heard from you, until I got a load of your tone --

LOL

!!!
First let me say I extend my high compliments that I have paid Danny Mininni (for THOUGHTFUL planning and execution of the theater -- and the productions as well), on blog that is emailed to 500 in the US Press and others. The Puerto Vallarta Botanical Gardens was happy to thank me for publicizing their strengths -- as has the City of Puerto Vallarta, which his used portions of my blog to promote Puerto Vallarta. Some others have not thanked me, but that is not what I seek.
If you check your email records of some months ago, I had met the owners of Nacho Daddy's at Improv Night at YOUR theater, and on YOUR premises (which they clearly were supporting), they told me they had made a deal for the Boutique Theatre to move in upstairs, but I copied you on that for some reason, and you wrote back that that was NOT the case, and I figuring you should know, told people that some error had been made.
And of course they opened up there.
From reading this originally, you might have misread (or mis-remembered), what I wrote or what you wrote, so in any case, Senor Nacho Daddy's told me right and some comedy of errors caused you and I to have a misunderstanding. I consider it over, unless you have more to make of it.
Now my only point about anything hurting business, was that the longer your links on Facebook to your REAL website are broken, some might get discouraged and not get around to find your informative site with links to buy tickets, etc. And while you told me you would take care of that 1.5 weeks ago, no one has done so. I just checked and even NOW they go to "internet hell" trying to use those links. Maybe this is not an important part of your business plan -- no matter what you think of ME, someone should have fixed that post haste.
Now, I have been threatened with suits of libel (where, exactly, do you claim I libeled you???), by the top lawyer at The University of the South (aka Sewanee, that holds the Tennessee Williams copyrights), and by PV local, Luis Melgoza who not only owns www.PVGeeks.com and

GAY GUIDE VALLARTA

, but is a

DISGRACED

lawyer no longer able to practice law -- who was once the Head Lawyer to the PRI Party in all of Mexico. He even claimed he was going to have me DEPORTED from Mexico for impersonating an agent of Presidente Calderone (which I kind of did), shortly before he left office -- but the Presidente didn't seem to mind -- nothing happened despite my telling the truth of how Luis Melgoza is CIA (I googled the info on his business card, and his actual HQ is a bungalow near CIA HQ in Virginia, USA), and had in 2010, tricked me with his partner Salvador Fuentes, who convinced me he was my fourth Kenan cousin and super-rich Thomas S. Kenan III of Chapel Hill, North Carolina, USA, had sent them with a 60 MINUTES reporter to get my story, and they recorded it for 45 minutes, promising at least TWO 60 MINUTES segments -- and I believed that crap for over a year -- after all, 60 MINUTES really DID do a segment on Thomas S. Kenan III and Mary Lily Kenan, the richest woman in the world according the NEW YORK TIMES in 1913.
Salvador Fuentes and Luis Melgoza at their booth in Paradise Community Center, Puerto Vallarta
Paradise Community Center was recently shut down by the landlord in a fake dispute over maintenance. The Mex-Feds are clearing out CIA narco-traffickers, and several of the merchants there are suspected (particularly those operating behind the label "Christian merchandise" or "Church").
Mexico got fed up with the Catholic Church and separated religion from government decades ago -- just the OPPOSITE of what the USA Govenment has been doing on its march to fulfill my mother's and the Popes'

NAZI DREAMS

!!!
Melgoza was also tied to ROGUE US Special Forces Op Benjamin Shields and his wife Adrianna of Conchas Chinas, and HE used to get instructions by phone from my mother -- twenty minutes at a time.
To learn about her, read my blog, but also true is that Luis's friend Ben Shields owned all the most offensive blog sites like www.ObamaHaters2008.com, which CNN ran several stories on claiming no one knew who owned those offensive things that spewed PURE RACISM and incitements to RACE WARS, led by Christian Republicans, but although Ben BRAGGED about it, I wasn't sure until a simple googling of it back then came right up with the proof that he owned them.
Anyway, I got distracted. Google in my blog for these stories told a number of times -- if interested. And I guess I accidentally showed you how unbelievably stupid I can be to fall for that 60 MINUTES stuff -- LOL!!! Everyone makes mistakes (I am forced to admit).
But I DO encourage you to either fix those broken links on your Facebook page or delete it entirely. Otherwise it gives the appearance of non-professionalism. I'm not meaning to cause a problem for whomever

(sic)

, actually IS responsible for such things, just to alert you to an overlooked item -- and when you consider that we are in "Manana Mexico", a week and a half is like five minutes, so I'm sure no real harm has been done.
By the way, Waldemar Salazar, MD, a good friend of mine from Colima in 2010, who took me to the Governor of Colima Estada's office to meet the kind man, was also the BEST FRIEND of former Presidente Salinas, and had driven Salinas to Puerto Vallarta when Salinas was Presidente to show him how DRUG-CHOKED Puerto Vallarta was back then.
According to Waldemar, Salinas gave his security the slip,

he donned a simple disguise,

and went all around

Puerto Vallarta

and returned --

without being recognized.
I bet the

Mi Mexicanos

would love that story!!!
And they knew it was all American

CIA

. I dare say that Presidente Pena Nieto will achieve his goal of getting the DRUG TRASH and their pals OUT of Puerto Vallarta sooner than the entrenched Mafia believes is at all possible.
All best to you, Danny, and your theater!!!
Scott, go by Nacho Daddy's and see the Boutique Theatre sign out front. I demand a retraction and an apology from you or you will find yourself in court for libel. I don't know who you think you are, but I am Danny's business partner and certainly not hurting OUR business. Retract and apologize and get your fucking facts straight before you put my name on your insane rag.
SURPRISE

-- this one is actually in

Tokyo, Japan

!!!
.