RE-PRINTED from here

: http://theweathercontinues.blogspot.mx/2014/11/saluting-whales-tale-both-mine-and-that.html
Whale's Tale in Cape May, New Jersey still has my "founder's DNA", but its current success is all due to Chuck Pritchard and Hilary Russell-Pritchard, my former partners who still run it -- and their employees.
I recommend that my readers check them out for their CHRISTMAS SHOPPING and take advantage of

liberal free shipping

!!!: http://www.whalestalecapemay.com/
Whale's Tale won BEST BEACH RESORT SHOP for all of New Jersey, just a few years ago, and has only improved since then. Here is one of their Christmas windows: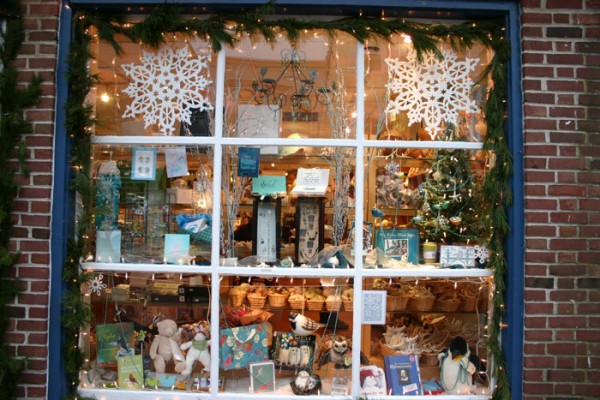 In late 1981, Tennessee Williams and I visited Cape May, and Tennessee bought a crystal pendant at

Whale's Tale

(it really refracted

FIRE

), that he gave his sister Rose for Christmas that year. Now, I don't know if they still sell that kind of pendant, but here's one I saw that is really cool!!!
And for you

STORY HOUNDS

, the chapter of Tennessee Williams and I visiting Cape May, from my memoir, Walking on Glass: A Memoir of the Later Days of Tennessee Williams: http://laterdaysoftennesseewilliams.blogspot.mx/2013/10/chapter-6-cape-may.html
>>>
MY REPLY TO JANINE SMALL, ATTORNEY AT
CARROL, GUIDO & GROFFMAN,
PLLC
:

Janine Small
Dear Ms. Small,
As one of the attorneys planning and leading the American Bar Association's recent junket to Costa Rica for meetings on Intellectual Property, Entertainment and related areas of Law,
http://www.google.com.mx/url?sa=t&rct=j&q=&esrc=s&source=web&cd=2&cad=rja&uact=8&ved=0CCQQFjAB&url=http%3A%2F%2Fwww.americanbar.org%2Fgroups%2Fentertainment_sports.html&ei=uCByVOuFK8OTuQT47oGQCw&usg=AFQjCNGLFqZd8seUPRSsVLV3vgPl070H8g&sig2=aj_18K9QNLdv6dHy7B820A&bvm=bv.80185997,d.c2E
you, and your ABA, have a high bar to meet in terms of
Integrity
-- especially preserving that for your organization.
In an effort to help you preserve that
, I emailed you and several others in leadership of your org -- and MANY members, most not attending that junket -- alerting you to the fact that Daliah Saper of Saper Law, LLC, scheduled to speak at your junket, violated the Law and the Constitution by trying and convicting me IN ABSENTIA in Cook County, IL courts without ever legally serving me in Puerto Vallarta, where I live, after Gen. Colin Powell's Chief Protocol Officer warned me that the Republican Party (who had just had the Law come out and try to commit me to mental hospitals FIVE TIMES within one month in early 2010, all unsuccessful), planned to kill me if I remained in the USA.
It's complicated, but Daliah Saper sued me for her client Jamie Lee Sutherland, an exec of Wells Fargo Advisors, Chicago, (disclosure: my Kenan Family controls Bank of America with Frank Sinatra's heirs), who has a house near Puerto Vallarta, and he told me of his narco-trafficking here (Jamie's claim was of averaging $23,000,000.00 in business per month), as well as his having seen Barack Obama in his private club, Man's Country gay bathhouse, several times.
Recognizing his desire not to have his words/actions reported on blog, I worked with Jamie to take all references to narco-trafficking OFF my blog, and he said he was satisfied, but Daliah Saper continued the lawsuit which was never legally served, and Jamie won TEN TIMES the $50,000,00 he asked for as well as copyrights to my PUBLISHED memoir of having worked for Tennessee Williams, and my blog posts even into the future, as well as all my emails on related subjects until my death -- me having had NO opportunity to defend myself, against the legally NOT-served suit.
I should explain that I am NOT in the "Kenan line of inheritance", and in fact was then homeless -- until I got on Disability, my entire accumulated wealth had been tricked out of me by Drug Mafia in Mexico, something I must take the blame for, myself. I was incredibly naive.
As I stated in my original email to you, I am proceeding to undo this legal sham -- and then counter-sue -- and in fact here is a good place to see a summary of my situation, my request for assistance to the Center for Justice & Accountability, whom I hope to hear from within a month: http://theweathercontinues.blogspot.mx/2014/11/email-just-sent-to-center-for-justice.html.
And to see specifics of how my case went through Cook County Courts, here is its record, open to all. You will notice that Rishi Nair of Nair Law, LLC is the lawyer who enforced the judgement for the others, but Saper Law did 90% of the work. Rishi Nair, despite my explaining that all the money then in my Bank of America account was from SSI Disability, which the law does not let them touch, they found a technicality to take it all, and then did so -- and Bank of America had to comply. https://w3.courtlink.lexisnexis.com/cookcounty/FindDock.asp?NCase=&SearchType=2&Database=2&case_no=&Year=&div=&caseno=&PLtype=2&sname=Scott+Kenan&CDate=
So if you can explain why you and the American Bar Association allowed this criminal of a lawyer to speak at your junket, I will be happy to take you off my email list! Otherwise, I will be happy to make sure all know of your inaction on that, that I will then assume was intentional.






Janine Small, PLLC

(212) 257-5598

(917) 886-6649



>>>
MY EMAIL TO
DR. CAROLE KUNKLE-MILLER
,
psychologist
:
Dear Carole,
VERY long time, no contact, but you came to mind today as I was thinking of the whales that have now returned to Banderas Bay and Puerto Vallarta, where I live, and while I have accumulated a real

WHALE OF A TALE

, I also remember Whale's Tale Cape May with the fondest of memories – and as I recall, our name came from YOU, and was from a restaurant you had noticed – so a very belated

THANKS

!!!
And I was thrilled today, to see how successful a practice you have built and that Richard even works with you, although I believe he started as an architect. I've had quite the experience, including having been on Lithium for 31 years, allegedly for Bipolar (how I blasted out of Whale's Tale and Cape May), but it was mostly an agent to keep me "semi-lobotomized" so I did not reveal my parents' actions over these many years. Unfortunately, all kinds of misunderstandings have developed between me and Chuck and Hilary, that really should be limited to the time about 1975, when Hilary's mother met with my mother, and then announced Hilary would marry me, who had been out gay since second half of freshman year at Denison – and even THAT is something between the two mothers. Chuck, Hilary, and I thought that was hysterical and evidence of her mother going dotty at the time.
I notice there is a very positive spin to your practice, with an emphasis on Gratitude. I actually studied for many years under Dr. J. Kennedy Schultz, then President of Religious Science, International (aka Science of Mind), taking classes through Practitioner, and I also studied under Dr. Elisabeth Kubler-Ross, as well as others. These are the techniques that have saved my life and freedom!
And I see that you, too, understand the role scents can make in moods, etc., and I believe the scent that will get ANYONE into a better mood is that of a fresh-cut Christmas tree – especially a Balsam Fir. Would you agree?
And my memoir of working for Tennessee Williams, which got rave reviews from John Lahr and many Williams scholars, was scheduled to be the FEATURED hard-cover release by Alyson Books in spring of 2010 – until Politics tanked it, but I then published it on Amazon, until I was sued for LIBEL without being legally served and then tried in absentia in Chicago – they giving my copyright to Jamie Sutherland, a Wells Fargo exec, my own family controlling Bank of America -- as well as Exxon-Mobil, Chevron, much of Coca-Cola, and North America's largest trucking company, Kenan Advantage Group (www.theKAG.com), etc.
No, I didn't realize this until recently, either!!!
.