RE-PRINTED from here

: http://theweathercontinues.blogspot.mx/2014/12/does-robin-avery-really-have-three-rug.html
All indications are that this is the same Robin Avery, a Canadian citizen in Puerto Vallarta Writers Group who it is said made or makes money by "day-trading" in securities, which can be completely honorable. Many of my friends did it with varying results going back to the electrician Wesley Sizemore in Key West in 1981, but the others I have known to be in it in recent years were actually into narco-trafficking, not that I have reason to believe Robin does that. We only know he really likes to drink -- and early in the morning.
It is always suspicious when a Facebook profile does NOT let the non-friended see ANYTHING AT ALL, like is the case with Mr. Avery's.
And funny, is that Colin Hamilton and I used to discuss in detail the more manly aspects of Robin's body. He's neither handsome nor ugly -- but he sure is HOT!!! Given his comments, Colin was the more salacious of the two of us.
After a

drizzly day

, it was an

awesome sunset

last night in

Puerto Vallarta

!!!
This morning, I awoke to an incredible feeling of lightness, and soon realized that it is because I got the

TWO BIGGEST

things off my chest that were weighing on me, but there remains confusion on both, so I will begin with the one with national and international consequences.
1. In the matter of Police corruption in New York City, the connections of drug mafia have no

DIRECT

bearing on the disrespect of so many officers at the funeral, but this indicates the depth of the problem.
I have not seen this in the news, but from what many New Yorkers told me years ago -- and I did research this online and find tons of evidence of it -- when Rudy Giuliani was mayor of New York, his efforts to eliminate crime in the city -- which had become outrageous -- were MOSTLY by having a giant campaign to round up the "low-lifes", with bribes or threats of jail, and transport them to distant cities where they were simply unloaded.
This, with Bill Bratton's work as Police Commissioner during Giuliani's second term, really made a HUGE difference, but MOST of NYC's problem was trucked off to other places.
And I want to

SALUTE

Bill Bratton

for his INTELLIGENT WORDS on Major Garrett's TV show this morning

(

CNN

is nothing but a speculation-fest over another airliner, so might as well have gone off-air)

. But what was FUNNY (and a total contrast), was that Rudy Giuliani was the

NEXT

guest on Major Garrett's show, and Rudy only spewed ignorance -- and all he could claim is that President Obama HATES COPS because Rev. Al Sharpton is Obama's closest adviser and Sharpton calls for the killing of cops -- LOL!!!
Maybe not

NOW

, but in first term,

Reggie LOVE

was Barry-the-Bammer's

"closest advisor"

, and it was

NO SECRET

to the

Kenan Charities associated

Huffington Post

!!!
And of course, there is

THIS

complicado

, too:
But to wrap this point, it has become MORE THAN OBVIOUS that there is a serious problem with some New York Police Officers, and that is their cooperation with Sonny's Son Kings Drug Mafia

(Sonny was never their leader, but

VERY

high up and

aware of all their strategies

as they

took control

of

Police Departments

up and down the

East Coast of the

USA

, before he was caught and sentenced to

25 years in Maximum Security US Prison

)

, who actually hold sway over

MUCH

of the East Coast -- including Atlanta and Wilmington, North Carolina -- and they are working directly with the CIA and Republican Party (and to a lesser extent, the Episcopal Church, USA-only).
I sensed that Bill Bratton now (and likely before), gets this, and the incredible challenge to get beyond it. You see, Rudy Giuliani made his reputation fighting the old traditional Family Mafias, and either consciously or not, played

COMPLETELY

into the hands of the Narco-Mafia, who took over control of the city (one of Sonny's favorite ways to put it -- and something he was very PROUD of having butchered so many people to achieve).
Perhaps I should go out to interview Sonny in prison. I don't know it a fact, but he is likely in the Federal Prison right near Ixtapa, where Alberto Guzman (brother of Martin), still is to my knowledge -- and Charles Quigley of PV Writers Group lives so near to too!!!
But I leave all that for

Law Enforcement

professionals, now.

2. For a HOOT, the top Keywords used to search for this blog the last 24 hours:
3. I don't believe I mentioned

Frank K. Meyer, DDS

's business:
Casa Pacifica Puerto Vallarta Christian Retreat Center
with your host
Dr. Frank Meyer
P.O. Box 444 Puerto Vallarta, Jalisco 48300
Frank used to really rake in the dollars, but several members of the Puerto Vallarta Writers Group told me the place is now a

complete mess

, with much maintanance not done -- and no paying guests.
Pity.
4. Regarding my own siblings, the matter of investing in my future must really be independent of anything else. I have felt all along that because I had no choice but to bare much of their lives which is not always pretty, that I owe them some profits from the story -- and any lawsuits over it all.
I still feel that way, but given their obtuseness through all of this, they will not appreciate it if they don't have to make a financial commitment if they want to profit. And even if they

HATE

me, I would still allow them this option, as I think it fair.
They might

NEVER

appreciate what I have been through,

or how much of it they caused deliberately or not

-- and

I just have to accept that

.
I can't force it.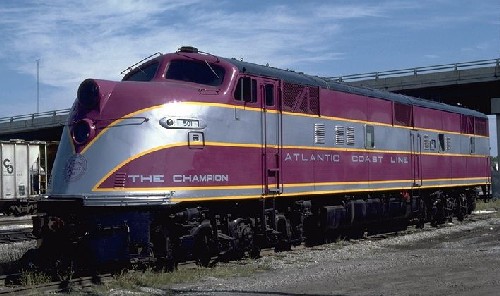 WHO KNEW???

The

Atlantic Coast Line

(largely owned and run by

NC Stanley's family

-- and his

grandfather

was the equivalent of

US Ambassador to China

), was sold to the

Seaboard Railroad

, their main competitor, in 1967, forming the

Seaboard Coast Line Railroad

.
And their last engine was

PURPLE

!!!
(possible symptom of

"railroad fruit-cakery"

)
Also, NC Stanley is closely related to

Frank Hawkins Kenan's

widow

, Betty (Price) Kenan

.
What
several people
have asked is
WHY
have I not heard from
Stanley
through all of this with the
Writers Group
. The answer is that

I do NOT have a clue!!!
With one exception --
Stanley's surprising relationship
with artist
Adrian Rojas
, whom I have known since 2010, and

who shuns me now

. . .
The Atlantic Coast Line
Railroad, Standard Railroad of the South
Scott
.