RE-PRINTED from here

: http://theweathercontinues.blogspot.mx/2015/01/why-so-quiet-no.html
Shhhh . . .
A couple of days ago, I wrote in this blog that Obama had a meeting also with Al Gore and Rahm Emanuel (both representing Bill Clinton, of course), and then Mayor of Los Angeles Antonio Villaraigosa, selling Obama to the Republican narco-traffickers -- this is NOT exactly true, and I'm sorry I was in such a hurry and did not correct it right away.
The truth is that these same Democrats sold Obama to Big Banks and Wall Street, then (I could not google up the story (which at least Huffington Post carried), nor a single one of my blog posts before 2013, so I couldn't get my old links to it that way, but if you google those names together, you will find I blogged about it a lot.
The story is -- and it should be more than easy to google up old press reports, as well as my blogging about it -- but it was only at Obama's actual First Inauguration ceremony, that George W. Bush sprung on him that the CIA is in charge of worldwide hard-drug narco-trafficking (thanks to Bill Clinton even more than any Republicans), and that they had ALL THE EVIDENCE of his many gay affairs in the past and that he, like Jamie Sutherland of Wells Fargo Advisors, Chicago, has a lifetime membership to Man's Country Baths.
One artist's rendering of that moment.
And of course, Obama had to give Caroline Kennedy a taste of Camelot as Ambassador to Japan -- to get HER to SHUT UP!!!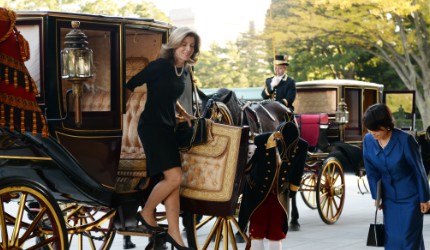 >>>
WHY NO REPORT IN THE
US PRESS
ABOUT THIS???
I first met Cynthia McKinney in the early oughts, when she was still my Congresswoman, and being "Denise Majetted", Denise being the one Dems got to take Cynthia out after she filed Articles of Impeachment against George W. Bush for with Cheney and their allies, the Bin Laden Family and the Saudi Royals, actually CAUSING 9/11.
But I first saw this on Facebook posted by Cynthia about 2.5 hours ago, and quickly by many in the alternative press. I'm NOT surprised the NAZI CNN online or TV has not yet reported it, but even Huffington Post isn't, so things are a MESS in the Press, no???
>>>
AND FINALLY, THIS:
"In the councils of government, we must guard against the... Military Industrial Complex".
Hear what else outgoing President Eisenhower had to say about the modern military!
Scott
.