RE-PRINTED from here

: http://theweathercontinues.blogspot.mx/2014/10/dear-saint-lew-wallace-genral-wallace.html
Lewis "Lew " Wallace in his twenties.
Lew Wallace as Union General -- as you might imagine, he

FINALLY

married

LATER

!!!
Lewis Thornton Powell, who was one of four hanged for the assassination of President Lincoln, Lew Wallace sitting on the Military Tribunal that condemned them to death. Daguerreotypes from here: http://mydaguerreotypeboyfriend.tumblr.com/
>>>

YES

, I AM CONNECTED TO

EVERYONE IN THE UNIVERSE

(except

Joel Osteen

, thank God)!!!
First of all, Lew Wallace never had an interest in religion at all -- until on a night train to a Soldiers' Reunion, Robert Ingersoll, then the most prominent
atheist
in the United States, challenged him with some ideas. And Ingersoll was ALSO a prominent Republican (yes, y'all, Republicans included atheists and BLACK PEOPLE -- as opposed to Uncle Toms -- back then), having given a rousing speech at their Convention to nominate a Republicans Presidential candidate -- and a veteran of the Battle of Shiloh in the Civil War, whose inglorious conclusion had been placed squarely on Gen. Lew Wallace's shoulders, and he was removed from command, to head the defense of
Cincinnati
-- the future birthplace of both Scott Kenan and Ted Turner.
And LOOK!!! Lew Wallace was born in THIS house, which was torn down and replaced with a simple gingerbread Victorian, in which my mother's cousins Dot and Mary Rifle lived -- and I visited many times, amazed by the big granite marker in front about who had been born there.
Mary married late in life (about 1945), and immediately suffered a serious stroke, leaving her bedridden and unable to speak. Her husband attended her bedside for twenty years until her death, they living on Dot Rifle's income as a much-loved English teacher.
And that house was eventually torn down for an expansion of

St. Michaels's Catholic Grade School

, attached to the church where Father Sahm married my parents on June 10, 1950.
Now I DON'T know that Gen. Wallace became Catholic, and Catholics in those days assumed that all Protestants go to hell, but I can TRY to pray to him, following the general theme of this song, which includes the lyric, "and lots of wavy hair like LIBERACE!!!":
Now getting back to Gen. Wallace, himself, he wrote the BIGGEST SELLING BOOK of the Nineteenth Century -- even eventually beating out UNCLE TOM'S CABIN -- and during the Gilded Age, even the Bible at times. It is STILL considered continuously in print since originally published in 1880, and FOUR movies were made of it:
And although recent books might have outsold it, it is considered the BIGGEST "Christian Best-seller" ever. Everyone was making money on it: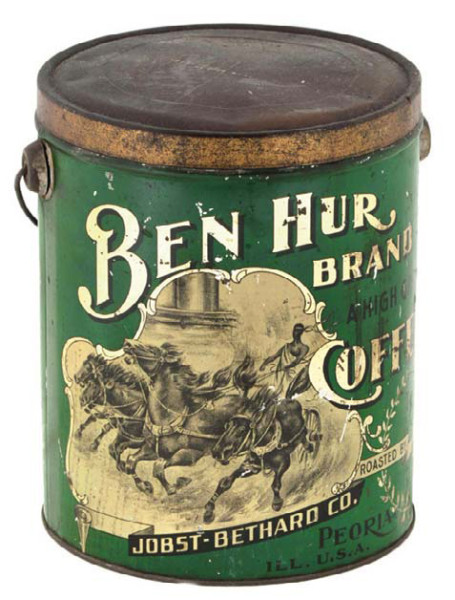 Of course Lew Wallace was too dead to prophet or even

PROFIT

off this.
Well, if you care to read more about Lew Wallace, he was an ASTOUNDING character, having belonged PASSIONATELY to four political parties over his life -- and always haunted by Shiloh, he actually tried to enlist and raise a regiment for the Spanish-American War in 1898, but was turned down since he was then 70 years old (and he was governor of New Mexico Territory -- like his father had been Governor of Indiana).
General Wallace grew very rich from his writing, eventually, he writing many books. And he even was offered a General's Commission in the

Mexican Army

to chase out the French (but that was disastrous). Rutherford B. Hayes made him the US Minister to the Ottoman Empire in the early 1880s, at a salary of $7,000.00 per year -- a FORTUNE in those days.
Now you might assume, because he spent most of his life in or returning to Connorsville, Indiana, where my mother's father taught English and coached high school basketball, that my nephew Connor Kenan got his name there. He didn't. Connor was named for an Irish character in a Leon Uris book my brother fell in love with.
But look at Connor now -- the self-proclaimed

"Gay Darth Vader"

, although Connor is sexually

STRAIGHT

!!!
And besides, it's

CONNERS

ville, silly!!!
Scott